School and district leaders are under pressure to invest more in teacher PD, but it isn't easy. Based on research*, a top barrier is lack of time. Teachers don't have enough time built into their schedules (44%,) and school leaders are consumed with too many administrative tasks (42%).
Take a page from the teaching playbook and flip your staff meetings. Just as flipped classrooms turn traditional instruction into collaborative learning for students, flipped meetings turn one-way updates into lively educator dialog and real-time professional learning -- learning that can translate into better classroom practices.
In this eBook, you'll learn
What a flipped staff meeting is

Advantages to your teachers and school

7 best practices to make flipped meetings work
Please fill out the form to download your free eBook.
Contact us now to speak to an education consultant about solutions for teacher support and growth.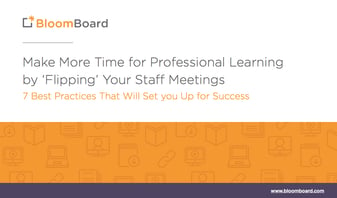 * Bill & Melinda Gates Foundation & Boston Consulting Group, "Teachers Know Best, Teacher's Views on Professional Development," 2014.