Professional development can improve teaching effectiveness, empower growth, and keep teachers satisfied. Research shows that this has a positive impact on student success. In fact, teachers account for 30% of the variance in student achievement*, so it's no doubt that their role is crucial.
Find out how you can inspire your teachers by moving beyond one-time workshops to an ongoing, personalized support approach. In this eBook, you'll get actionable tips for:
Inviting conversation with administrators, principals, and teachers

Introducing PLCs for best practices sharing and collaboration

Personalizing teacher PD through high-quality mentors and online resources

And more…
Download the eBook and provide better teacher support today!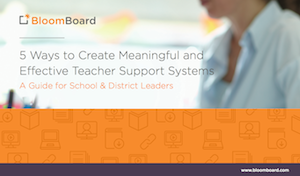 *Teachers Make a Difference, Hattie, 2003.